Gejja foundation: empowering women to lift themselves and others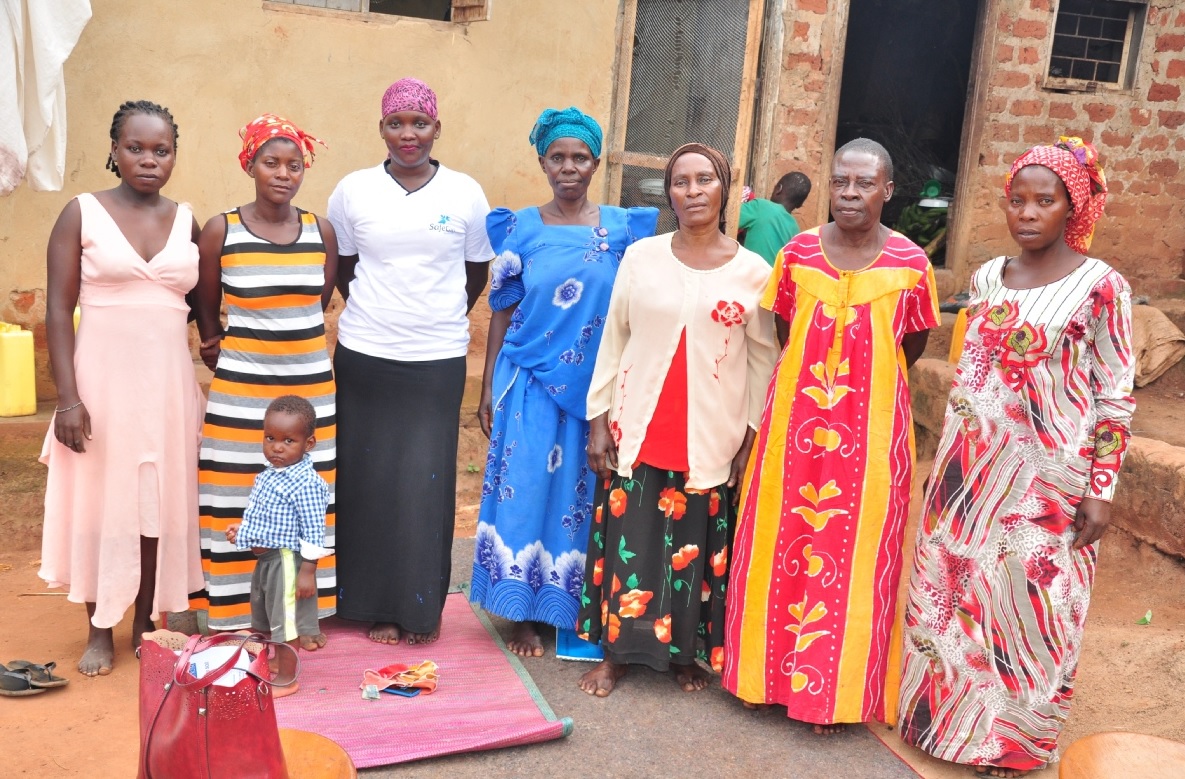 In her own words, Marjorie Angella Atuhurra was born to two school going children of 14 and 16. Growing up without parental love, care and guidance, she underwent a series of challenges beginning with dropping out of school, due to menstruation. Lacking knowledge about the most pressing issue on menstruation, later led her to be forced into early marriage and motherhood.
However, a new journey started when she joined the Social Innovation Academy in 2014 an organisation established by a German NGO called Jangu ev. This is where youth are supported to create social enterprises and here, Marjorie too was mentored. She successfully completed the program thus starting the Gejja Women Foundation in 2016.
GEJJA; is a luganda word literally meaning Grow Big. The organisation mainly empowers rural marginalized widows, teen mothers and school dropouts to become social entrepreneurs in order to change not just their lives but those of their families and community. Together with her team, the organization focuses on four aspects ranging from educational support, permaculture training and women start ups to menstruation and menstrual hygiene training.
In many developing countries like Uganda, women and girls often lack access to quality sanitary products to use during menstruation. The organization notes that in Uganda alone, at least 84% of young people living in rural areas cannot reliably access and afford sanitary pads. Therefore, an estimated 3.75 million Ugandan girls rely on using filthy, unhygienic, ineffective and uncomfortable materials.
These range across traditional materials like old pieces of cloth, pieces of mattresses, toilet paper, leaves and banana fibers. This in the long run sometimes leads to girls dropping out of school and getting married at tender ages as young as 12. Their parents who earn less than a Euro or Dollar a day (which is not enough to run the daily expenses of the family) tend to allow early marriage of the girls to rich village chiefs as a source of income to the family.
Through the Gejja women foundation, women are trained in how to make reusable sanitary pads as well as menstruation and menstrual hygiene where women are taught how to track their cycles. Participants are also given a chance to ask questions in order to dispel myths and taboos. So far, Gejja Foundation has been able to reach at least 10 schools in northern Uganda and about 40 schools in Mpigi District.
A 2020 report by the World Health Organisation (WHO) states that every year, an estimated 21 million girls aged 15–19 years in developing regions get pregnant and approximately 12 million of them give birth. At least 750,000 births occur to adolescent girls younger than 15 years in developing countries.
Most of these teen mothers lack education on the roles of motherhood, the challenges that come along with it, how to overcome the challenges of unplanned pregnancy and still make their dreams come true.
Because of this Marjorie believes that economic, educational, and social empowerment are fundamental drivers of change and has designed the Gejja Women Foundation's programs around those objectives.
Unlike other non-governmental organisations that empower girls and women by giving them handouts, Gejja foundation believes the women don't need handouts but long-lasting solutions for self-sustainability.
"We make sure that we cover every aspect. We therefore reach out to girls in schools, their mothers and sisters and encourage them to start their own businesses," Marjorie Angella says.
According to Atuhurra the organization's target audiences include rural marginalized women like the widows, teen mothers, school dropouts and women who are given a second chance at fulfilling their goals and becoming independent. The organisation provides educational support, permaculture practicing, women start-ups and production of reusable sanitary products.
Through the Foundation's economic empowerment programs, women in rural Uganda have been able to start their own businesses and participate in existing markets. This has been possible by providing access to professional training and productive resources.
Also, through their educational empowerment programs, they have managed to pay school fees and other necessities for marginalized women in order to help them complete their education. Social empowerment programs engage both men and women in the community on the importance of equal rights and opportunities.
The Gejja Women Foundation also promotes health and hygiene through menstrual hygiene campaigns that discuss sexual and reproductive health, early pregnancies, and sexual transmittable diseases such as HIV/AIDS.
"I envision a generation of well-educated, economically independent, and self-determined women and girls in rural Uganda," Marjorie further says.
Among their many achievements, Gejja Foundation has so far been able to train over 100 women in making reusable sanitary towels, distributed over 500 pieces and equipped 200 women with training skills.
In addition, Gejja produces reusable diapers which are not only comfortable, chemical-free and soft for baby's skin, but also reduce plastic waste created by commercial diapers.