Namutebi has cooked for two sitting presidents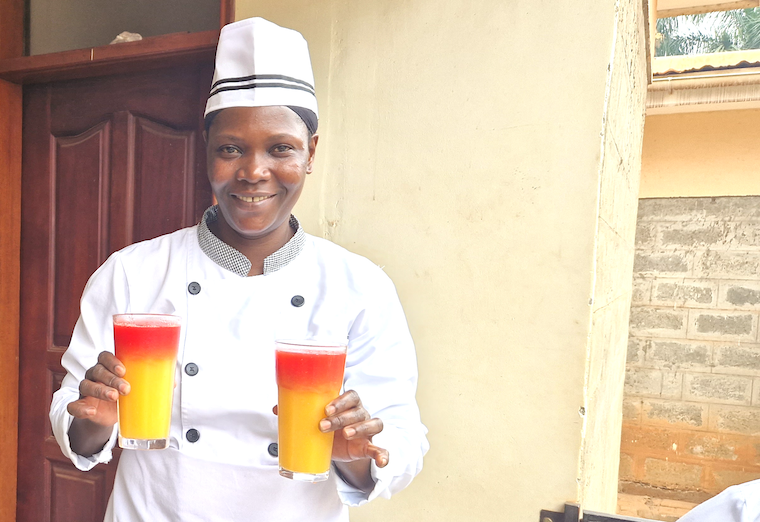 Serving two presidents had not been part of her dreams when Hadijah Namutebi nursed the hopes of becoming a chef. The hopes of becoming a chef were also slowly slipping out of her hands when, as a young girl in Primary Three, her father passed on. It was a quick and terrifying jump because at one time, fees was paid with ease and the next, she could not pay a cent. Thankfully, her uncle came in to help.
From Mbale's Nakaloke Primary School to Kashasha Secondary School, Namutebi later joined YMCA Wandegeya for a hotel management and institutional catering course. All this time, her dream was to work for the biggest hotels in the country. With that in mind, she applied to Sheraton, Serena and Munyonyo Commonwealth Resort for an internship placement.
While Serena did not respond, Sheraton and Munyonyo called her. Placed between a rock and hard place regarding this decision, Namutebi chose Sheraton and in 1994 started her professional journey as a chef. It is a decision she smiles back at with profound joy because it came with several pecks. The first was in the form of Chef Winnie Dhaka, whom she says offered her tough love.
"When you are babysat, the possibility of achieving your goals is low because you are not pushed out of your comfort zone. In my corner was Chef Winnie whose eye watched me like an eagle's, was very strict and all I could do was achieve. There was no two ways about it and I am so happy with my profession and mentor, Chef Winnie," she says.
Chef Namutebi's charisma is synonymous with her alluring meals. As such, her presence as well as the touch to her meals cannot be missed. It was while at Sheraton Hotel that Namutebi prepared salads for then two sitting presidents; Bill Clinton and Robert Mugabe who were presidential guests at the hotel.
It is known, in the culinary world, that salads demand utmost hygiene practices and standards seeing that fruits and vegetables are easily contaminated. Having prepared meals for these dignitaries is something Namutebi does not take for granted as it added 'presidential meals' to her already rich CV. Her cooking is surely rich encompassing the big names such as Sheraton Hotel, New Court View Hotel in Masindi, Prestige Hotel Suites and currently The Harp Hamilton Park in Kira. Save Sheraton where she applied and rose through the ranks over 10 years to become supervisor, other hotels have head hunted her, which comes with better salary bargaining cards.
The presidential salads
Imagine your supervisor telling you, offhand, "You are going to make a salad for the president!" It may not sink in, knowing that while it is simply a salad, it is for a head of state. In Namutebi's case, the stakes were even higher because this was the US president. That said, with belief and confidence in her skills, Namutebi took on the task.
"It was a Greek salad made of mixed vegetable, black olives and feta cheese. Even when, probably for security reasons, I made the salad in the full view of President Clinton's travelling chef and security, they trusted me and let me do my thing all the way. I believe they saw that I knew what I was doing." After taking the salad, a message of appreciation was brought back. It was surely amazing.
Then came Robert Mugabe's salad and the experience was a real game changer. Even in his old age, the standards were high because he demanded for the finest and had a taste for finesse and class. Owing to his ill health, the Zimbabwean president preferred cold food and designed his own salad. With no name to the salad, but specific requirements, Namutebi had to ensure she had every item on his list ticked off and designed perfectly.
That was topped with a dressing, and once again, the chef made another president happy. His comment, that makes Namutebi's heart swell with pride was, "This is great and it is what I expected." For one whose compliments never came cheaply, when he communicated his appreciation with the senior hotel management, she knew he was happy.
The mother four, of whom none has the slightest interest in cooking endeavours to get feedback from all the guests at the Harp that have been served her food. She believes that feedback is crucial because it helps one know what to work on. Namutebi says getting feedback is one thing as one must work on it to improve lest they start the decline of their career.
Her dismay is at the lack of real culinary schools as is found in Kenya. Namutebi believes that this is the reason why most big hotels are run by foreigners. Otherwise, if the schools that offered real cooking practicals were available in the country, what would be the use of hiring Kenyan chefs? "Unless that is worked on, Ugandans will still be undermined in the hospitality industry. We need to remember that there is a difference between institutional cooking school and culinary schools," she says.