Increased women representation step in the right direction for Uganda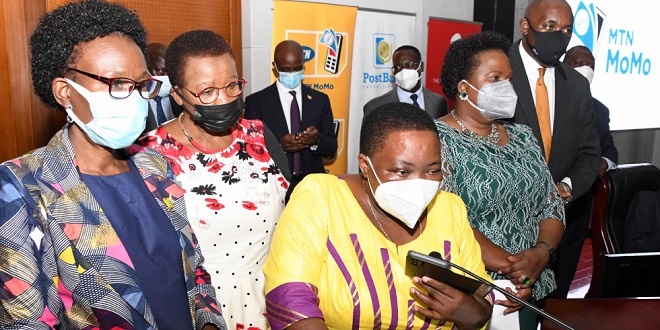 The appointment of Jessica Alupo as Uganda's second female Vice President and Robinah Nabbanja as the first female prime minister of Uganda is expected to inspire more women into elective politics.
Alupo and Nabbanja will be at the helm of a Cabinet in which 46% are women, an increase in the number of female ministers from 26 in the last cabinet to 27. This compares favourably with other countries such as the United Kingdom where of the 27 who attend cabinet only 5 are women (18.5%)
Other key positions occupied by women include the Cabinet ministers of Health, Education, Energy, Lands and Gender. This is in addition to several state ministers and heads of government departments and agencies.
Elizabeth Ampairwe, the director of programs at the Forum for Women Democracy (FOWODE), says the make-up of this Cabinet is a markup in the struggle for effective women participation in the country's leadership.
Since taking power in 1986, the current government of the NRM party has boasted of spring boarding women from kitchens to boardrooms. Before taking power close to 40 years ago, no woman in Uganda had ever occupied a Cabinet position. There was only one woman in parliament and no female judge. This, according to Ampairwe is an indication of the confidence that the government has in the women of Uganda.
She is hopeful that the appointment of women to crucial positions like the Vice Presidency, Premiership as well as the Health, Education, Energy, Lands and Gender ministries will enable the introduction of policies that promote women's socio-economic empowerment.
She adds that women's active participation in politics has policy benefits. For example, she says, in the budgeting process which is gender-sensitive, it is important to have women representation.
Constitution
Ampairwe also notes that equitable participation of women in leadership and decision-making processes is essential for the country to build a sustainable democracy.
"We must put a stop to a political structure that is male-dominated and live true to the aspirations of the 1995 Constitution which provided for affirmative action as a curative solution to the historical injustices suffered by women," Ampairwe says.
She notes that for the last 26 years, FOWODE has worked towards nurturing a supportive environment for women to thrive in leadership by engaging communities to address patriarchal, cultural and traditional stereotypes that inhibit women from achieving their full potential.
"The increase in women representation in cabinet is laudable because it will inevitably inspire more women to participate in politics. Gender inclusion in the democratisation process remains a huge challenge and any step that helps that cause has to be celebrated," she says.
"The number of women contesting for directly elected Parliamentary and Local Council seats has always been low. It is our hope that such appointments can inspire more women to rise up and aspire for direct seats because this is the only pathway to attaining parity in leadership," says Ampairwe.
Besides the vice president and prime minister, President Museveni also appointed the former Speaker of Parliament, Rt. Hon. Rebecca Kadaga as the first Deputy Prime Minister and Minister for East African Community Affairs.
More broadly roughly a third of Members of Parliament are now women with 188 female MPs currently out of 556 (33.8%).