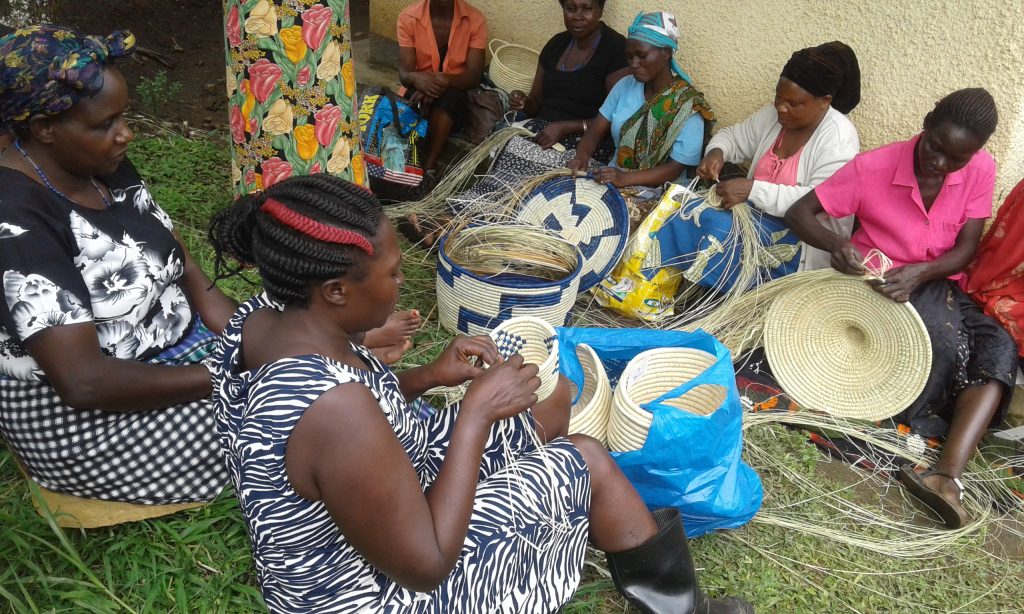 Kasese flood survivors find hope in basket weaving
"During market day, I sell about 20 baskets. On average, each basket costs about 20,000 shillings. It is a useful product since a number of people use them to carry merchandise and as a harvesting tool," says Rahuma Muhindo, who has found herself living in a camp after being displaced by floods that have ravaged Kasese District several times.
Owing to the extreme weather conditions and heavy rainfall, floods have become a menace and an annual disaster in the district. According to media reports, the floods are caused by Rivers Nyamwamba, Mubuku and Nyamugasani bursting their banks.
In most cases, the floods are extreme, leaving terrible destruction and causing mass migration to the camps. Karusandara Seed School is one such camp that the government has allocated for flood survivors. More than 1,000 people have fled and adapted to camp life.
The Prime Minister, Honourable  Robinah Nabbanja on her visit to the district last month, said those affected by the floods should be  relocated to protect them from other dangers. She also confirmed that government has a plan for purchasing land to relocate these vulnerable people and providing them with relief food.
"We have lived in this camp for three months and have been able to take care of our needs because of basket weaving," Rahuma says. She adds that her family fled to the camp after the floods submerged the only piece of land they had left.
"We had nowhere to go. The camp was the only shelter for me and my three children."
"We came up with the idea of basket weaving after noticing the majority of people in the camp are women. Sometimes, when tourists come, we make smaller versions which are portable and these sell like hotcakes," she says.
Rahuma says they use reeds and other materials to make baskets, bags and mats.
"Life here is not the best here; you are worried about contracting diseases yet healthcare services are not free. However, we have found hope in basket weaving and I look forward to saving enough money to buy land and build a new house," she says.
Rahuma testifies that basket weaving as an activity brings them together as women while they laugh, share stories, experiences, and forget their problems. She adds that they have also been able to start a saving group where one can get emergency funds in case of sickness or death of a loved one.
At Karusandara camp, women are hopeful that they can meet their daily needs if they invest in basket weaving and learn other craft skills. However, they also call upon the government to provide them with safe land so that they can build and live normally again.