Nakate defying odds through activism
In the words of renown Pakistani activist Malala Yousafzai, "when the whole world is silent, even one voice becomes powerful."
Vanessa Nakate, a Ugandan activist has become the powerful voice for the once ignored aspect of climate change the world over and especially in Uganda. Her work involves promoting awareness on the causes and negative effects of climate change.
Drawing inspiration from Greta Thunberg, also a young environment activist, 25-year-old Nakate began her activism journey in 2018 and staged her first solitary strike against the climate crisis outside the gates of the Ugandan Parliament in 2019. Later that year, she participated at the UN Climate Change Conference (COP25) gathering in Spain along with other youth activists.
Nakate led the campaign to save Congo's rainforests, which are facing massive deforestation which later spread to other countries both in Africa and Europe. She is the founder of the Rise Up Movement in Africa as well as the Youth for Future Africa. She is also known for starting an eco-friendly solar and stove project dubbed "Green Schools Project" in schools to reduce the amount of firewood used. This was in a bid to promote clean cooking for students and protect the cooks from emissions as they prepare meals for students.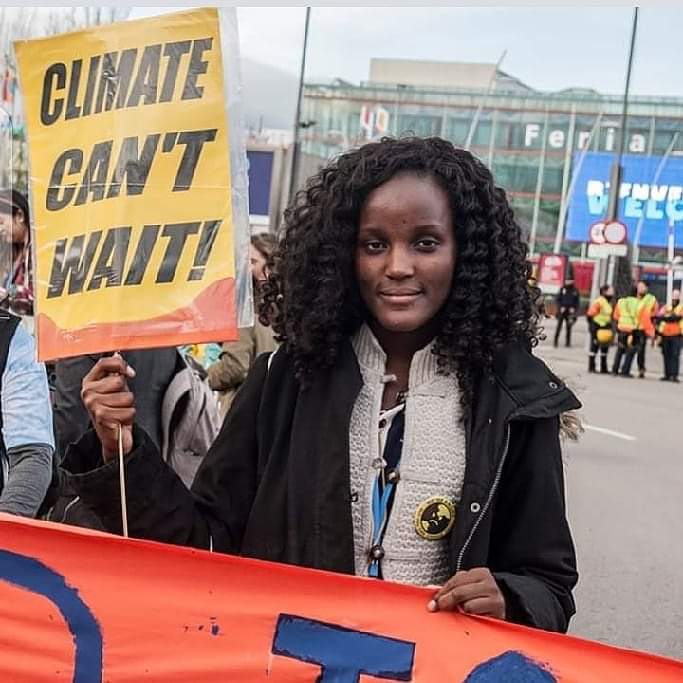 In January 2020, she was one of the few activists at the World Economic Forum who wrote a letter to the participants calling for reduced use of fossil fuels in Davos. It was at this gathering that an unfortunate media incident propelled Nakate to global fame.
After taking part in a press conference at the World Economic Forum along with four other white activists including Thunberg, Nakate was cropped out of a photo taken of the five at the event. The photo was published by the Associated Press.
Saddened by this, she took to social media to express her pain in a tearful video posted on Twitter. She went ahead to speak out against racism and expressed her disappointment in African voices being ignored yet they have been greatly affected by the climate crisis with many losing their lives.
Following this, her post was widely liked and shared and even elicited a response from the Associated Press.
The youthful and fervent activist has since been recognized at various levels for her work in activism and has met with famous world leaders on global stages. While attending the recently concluded COP26 summit in Glasgow, Scotland, Nakate met with the Prince of Wales. According to sources, they spoke about the role of the youth in ensuring the health of the planet for future generations.
In November 2020, Nakate was honoured by BBC among the 100 most inspiring and influential women from around the world as they paid tribute to those leading change and making a difference during these turbulent times.
She was also featured on the cover of TIME magazine issue for November 8/15 issue titled "Climate Issues" where she called for climate justice for Africa.
Earlier this month, Nakate's book titled "A Bigger Picture: My fight to bring a new African voice to the climate crisis" was officially released. In the book she speaks out on her experience in activism and advocating change in devastating effects of the climate crisis. She continues to inspire many who look up to her, especially young women.
Nakate is definitely a force to be reckoned with; a role model for many youths like herself and an advocate for the environment and future generations to come.