Sports women raising Uganda's flag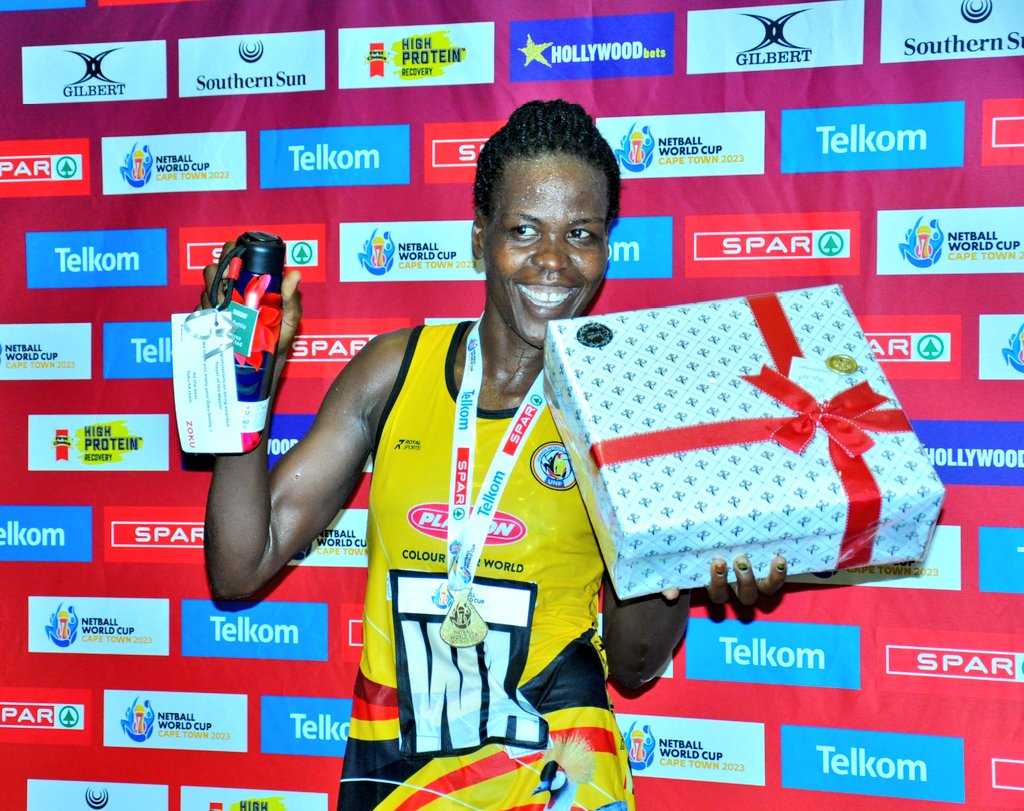 Irene Eyaru – She Cranes captain
Irene Eyaru is the current She Cranes national team captain, who also plays for KCCA and her outstanding passion for the sport has won her several medals and the hearts of fans.
On 31 July 2023, Irene Eyaru was voted the best player of the match when the Uganda National Netball team beat Trinidad and Tobago 74-34, to qualify for the second round of Netball World Cup 2023 taking place in Cape Town South Africa.
Irene was named Captain this year after Peace Proscovia was ruled out of the competition due to ill health. She is assisted by Margaret Bagala who is known for her extraordinary skill on the court.
Bagala who plays for NIC scooped the Player of the match in the recently concluded world cup match, where the she cranes beat Singapore 79-37. She was also among the top five players with the most feeds.
Irene started playing in primary five. Unfortunately, she lost her father who was responsible for her school fees. Life seemingly getting scary, she was advised to participate in sports like Netball to afford her education. Irene got into the game and her love for netball kept her in school through all levels.
"I had to start playing netball to stay in school. I got a bursary to finish Primary Seven, then got another for A and O Level and even university. After this, I was taken on by a club and now, I'm playing in the World Cup. So, it is the love of school that kept me playing netball,'' she said in a press interview.
Irene Eyaru hails from Terego district in the North of Uganda, where the statistics of teenage marriages are extremely high as she notes.
"In our village, it is very rear to reach university level, my sisters have gotten married before completing school but because I have been the only one from my family to make, it makes me respectable in the community,'' she narrates.
Irene plays several positions on the team including shooter, goal attack, wing attack and performs excellently in all positions above being the leader of the team.
When asked if her team is ready for the World Cup, Irene responded like the experienced player she is.
"We are not just going to the World Cup to participate in these games but rather compete at the highest level and treat every game like it is a final", she added.
Jannon Otto – Gazelles lead shooter
Otto is currently the sensation among fans after carrying the whole match on her shoulder, as the best lead shooter for Uganda's Gazelles in the recent Afro basketball competitions in Rwanda.
Otto scored 47.8% on field goals and 84.6% from the free throw line which is an extraordinary record and illustrates super star player.
Jannon Jaye Otto is a Ugandan American Basketball player who chose to represent Uganda since February 2023.
Otto, despite being an American by birth, has a true Ugandan spirit which is displayed in the love for her team and dedication in the competitions.
During a press interview after the match against DRC – Congo which the Gazelles won 78-62, Otto commended her team for making the game fun and easy.
"My teammates are the best, I love them so much. Probably one of the best teams I've played for, just like with how well I think we play for each other; we're not like selfish or worried about ourselves."
Otto has set the record of being a winning player since the FIBA Women's Afro Basket Zone V qualifiers where she led the team. As always, she excited the fans with her skill and made a mark as deserving to wear Uganda's jerseys with pride.
At the same Afro Basket tournament, she was named best small forward, securing her a spot among the best five and making Uganda a qualifier for the 2023 Women's Afro Basket.
The 26-year-old wowed fans yesterday as the Gazelles triumphed against Congo and qualified for quarter finals despite being looked upon as incapable.
Recently Uganda defeated Rwanda 78-70 in the Zone V qualifiers in Kampala, and during that match Otto posted a double-double of 22 points and 13 rebounds.
''She put up a great challenge, she kept us in the game and she didn't give up,'' commented Ngoboka Ronald, a fan.