Sweets laced with poison almost ended Peace Proscovia's netball career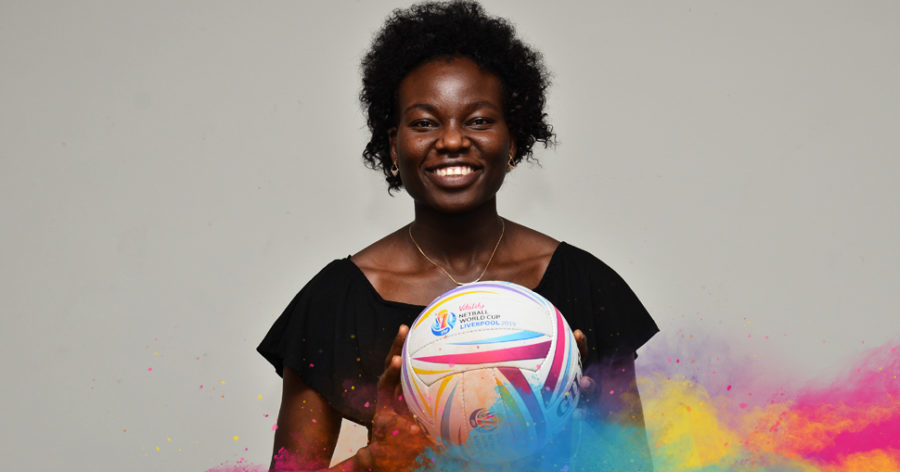 Drajole Agondua, commonly referred to as Peace Proscovia is a name that has embodied Ugandan netball and if I am not wrong, made the game worth its salt. She is the sixth female, as of 2014, to win the Uganda Sports Press Association gong, and as the first professional netball player gives girls a reason to admire the netball court. Very powerful in the air, outsmarting even the best, Proscovia has made the game exciting.
Playing in various positions such as goal attack, goal shooter, Peace, born November 1 1989 currently plays professionally in Australia. However, the journey has not always been smooth.
Born in Arua, Proscovia comes from an underprivileged family where access to basic needs is not guaranteed. Although there was barely hope of finishing school, she was devoted to do her best and along the way, a Good Samaritan offered to pay her tuition.
A lover of sports, she was blessed to get the attention of her physical education (PE) teacher who, while in secondary school trained her. Subsequently, she, in 2005 represented her school at the district level which gave her exposure.
While that earned her sports facilitation, Proscovia still grappled with lack of school fees thus returning to the garden; the only place that accepted her without qualms. She worked at it with hope that the harvest would bring a ray of hope. Thankfully, she managed to finish secondary school but that was as far as she could go. Thereafter, she returned to the only activity she had a guarantee of; digging.
At this point, her father's desire was that she gets married, although she put up resistance. Seemingly a disgrace to society, Proscovia was alone. However, her trust that God would make a way proved true when she received a call from the district chairperson informing her that National Insurance Corporation Holdings (NIC) Netball Club, her first club needed her. It was a dream, one that put her at loggerheads with her father. However, Proscovia had no desire to be like every other girl in the village; having children at a tender age with no assured source of income.
In 2008, the miracle call came through and all she had was her mother's support. Going against her father's wish, Proscovia headed for the city to play netball with her mother in tow.
Setback
On that journey, with images of triumph in her mind, she eagerly accepted sweets from a woman riding the same bus. Eating them, Proscovia had no inkling that these would throw a curveball in her destiny. Yet, as she popped them in her mouth, the stranger got off the bus and disappeared into thin air.
However, the sweets were laced with poison and as they arrived in Kampala, Proscovia was battling stomach pain coupled with bloody stool. With no money to deal with the emergency, she was given herbs to quell the pain. When news reached her father, he instructed her mother to return to the village, which she painfully did. Uncertain of what tomorrow held, Proscovia stayed in Kampala and thankfully, she recovered after a few days and started training.
The start was not easy but the team supported her. She also secured an offer to pursue a Diploma in Development Studies at Nkumba University in Entebbe. That came with financial obligations that Proscovia had to shoulder but as luck would have it, before the academic year ended, she was playing for the national team; She-Cranes. At the time, Uganda Christian University (UCU) spotted her and awarded her a full sports scholarship.
Free of the immense financial burden, she was also able to pursue a business degree while also supporting her family. Today, at least two of her sisters have attained an education.
With diligent playing, Proscovia's life was bound to change during the 2014 World Cup qualifiers in Botswana when the Super league Loughborough Lightning scout picked her as the best shooter. Moving to England gave her career a boost although she was weary of the mistreatment that many said awaited her.
Fortunately, she was open-minded and was glad to receive a warm welcome with one Liz Broomhead taking her on as her own. Besides getting an opportunity to do a Master of Science in Marketing, Proscovia is the first African player to feature in the UK's super league.
Proscovia later moved to Australia with her first appearance being the 2015 Netball World Cup in Sidney. One of the things she loves about the country is the weather, which she says is tropical just like that of Uganda. Joining the Sunshine Coast Lightning, she is glad that she is trained by Noeline Taurua whose career Proscovia has admired for long.
Nonetheless, there were choices to be made before coming to Australia such as having to sieve through four English offers, with one coming from Loughborough Lighting. Having become comfortable in Britain, Proscovia was not sure she would give any of the two Australian offers a thought. However, she had always dreamed of making it to Australia, which made her choice easy. Being the first Ugandan netball player to play at the Suncorp Super Netball also makes her very fulfilled because it is every netball player's dream.
Proscovia feels safer and happier abroad because she does not have to worry about being popular as she would back home. She says the cost is high, even to the point of putting your life on the line. With that out of the way, she gets time to focus on making an impact in her home community with motivation and financial input.
She is also thankful that, finally, her father relishes in her success and is now an advocate of talent growth. Proscovia does not blame her father for holding her back because she knows that he did not know any better. She believes that he only wanted the best for her. That said, having seen that girls were only seen as marriage material, today, he works to educate people in the community about a girl's worth. Unlike before, many parents are willing to allow their children to pursue their dreams.