Winnie Nwagi sets the bar high with maiden concert
At about 2pm on September 9, the then-slated day for Winnie Nwagi's concert, it started raining heavily. From the look of things, the envisaged concert was going to flop. "Who would want to step on water-logged grounds?" some asked. Another replied, "No, it will stop raining. It is even good it has rained because the cold sets the right atmosphere for the show." While we laughed about it, the continuing downpour was not thrilling for those that wanted to go for the concert. A few minutes later, the sun took over the sky and it shined the rain away. It seemed to be smiling at those who have, for so long, asked when Nwagi would hold a concert of her own.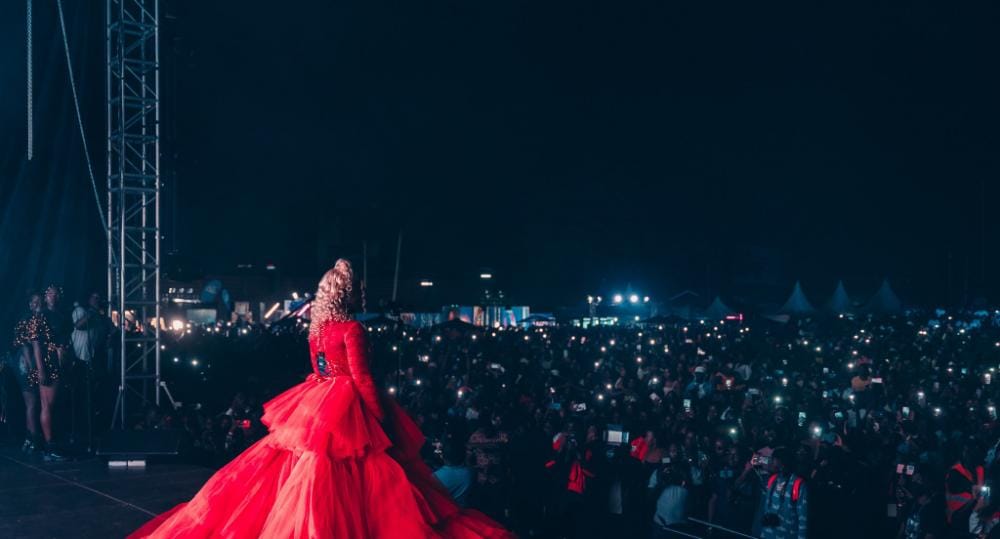 Many had surely looked forward to Nwagi's maiden concert and as early as 4pm, revellers were making their way to the Cricket Oval. Had she seen this from wherever she was, Nwagi would have told her organisers, "I told you", since she had demanded to stage a concert for so long.
By 8:30pm, photos on social media showed that her supporters had filled up the massive grounds. As they waited for the 'lady of the night', the crowd was entertained by several curtain raisers of the day such as Lydia Jazmine, Sheebah Karungi, Kabako, and Spice Diana.
Long before Nwagi would grace the stage, the gates were closed as the grounds were full to capacity. In her first appearance, unlike what many had anticipated, she came in a red outfit that fully covered her body. It is not what her fans had expected but it was a good surprise. For the next 40 minutes, she served the waiting crowds with various songs and somewhere in between performed 'Kibulamu' as a tribute to the late Mowzey Radio. This song had been written by the fallen musician.
She then took a break and returned in Buganda traditional outfits to further perform for her excited crowd. Therein, Nwagi also paid tribute to the late Danz Kumapeesa, a producer whose demise was in 2017. She had worked on three productions with this young producer. In his regard, she requested for a moment of silence.
While the sound suffered a few setbacks, her fans were not, in any way, deterred from having fun. And with this show, Nwagi surely showed everyone why she is so revered in Uganda's music industry.